KHS and CEO Cindy Ciardo have recently gotten some national exposure. We have been featured in HomeCare Magazine's latest provider profile. The article, entitled Knueppel HealthCare Services: Diversified, Daring, Dedicated, occupies six pages of the February 2012 print edition and can be found online at http://homecaremag.com/provider-profiles/knueppel-healthcare-services.
KHS' positive growth and expansion over the past several years is highlighted in the piece as is our ability to adapt to market trends. KHS' progressive vision for quality customer service – "old-fashioned values with a contemporary flair" – and flexibility to adapt to the challenges of a competitive home medical equipment industry figure prominently.
The article includes 11 photographs of KHS staff, the newly-remodeled West Allis showroom, product displays and the fabrication area where high-end rehabilitation chairs are customized. The new hands-on home modifications display shows a bedroom-bathroom-stairway combination suite where the latest home modification technology is in use.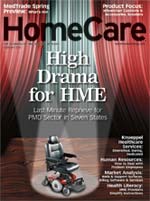 The February 2012 Issue of HomeCare Magazine Profiles KHS